Short-term Instruments
The NTMA's short-term debt programme, comprising Treasury Bills, Commercial Paper and Exchequer Notes, provides liquidity and flexibility in the timing of long-term funding operations.
Please contact the cashdesk team (email: cashdesk@ntma.ie, tel: +353 1 238 4725 and +353 1 238 4748 ) with queries concerning short-term paper.
Treasury Bills
Irish Treasury Bills are zero coupon instruments which normally have maturities at issue of between one and twelve months. The main features of Irish Treasury Bills are set out in the NTMA's Irish Treasury Bills Information Memorandum (249 KB, PDF format).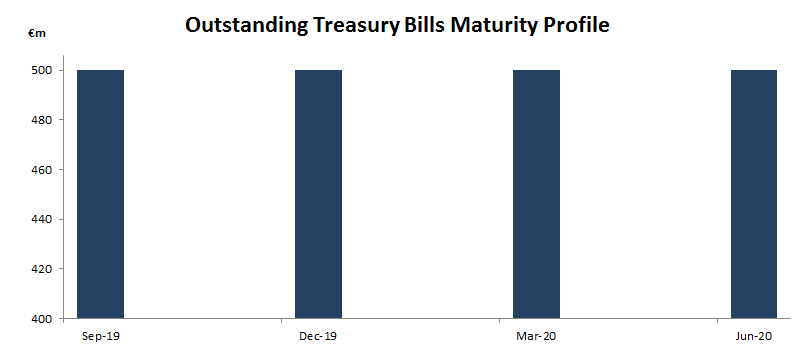 This information is also available in tabular format

Auction date

Maturity date

ISIN

Competitive
Amount
Sold (€m)

Bid/Cover Ratio

Issue yield (%)

Non-competitive
Amount
Sold (€m)

Total
Amount
Sold (€m)

20/06/2019

Jun-20

IE00BH3SQC39

500

3.67

-0.47%

Nil

500

14/03/2019

Mar-20

IE00BH3SQ903

500

3.46

-0.41%

Nil

500

13/12/2018
Dec-19
IE00BFZRQ465
500
2.37
-0.42%
Nil
500
20/09/2018
Sep-19
IE00BFZRQ358
500
2.51
-0.45%
Nil
500
Treasury Bills are issued primarily through an auction system. Participation in auctions is limited to recognised primary dealers in Irish Government Bonds and eligible counterparties.
Primary Dealers and Eligible Counterparties in Treasury Bills
Euro Commercial Paper Programme

Ireland has a USD 50 billion multi-currency Euro Commercial Paper (ECP) Programme which is listed on the Irish Stock Exchange. The programme is fully STEP (Short-Term European Paper) compliant and therefore carries the STEP label. Paper is only sold through approved dealers and prices are quoted on Bloomberg page NTMA4. Currencies of issue include EUR, USD, GBP and others subject to reverse enquiry. The maximum tenor available under the programme is 364 days.

Link to ECP Programme summary information

The dealers under the programme and their contact details are as follows:

Issuing Agent & Paying Agent: Bank of New York Mellon.
Exchequer Notes

The Exchequer Note programme provides short-term funding directly from mainly domestic wholesale institutional clients. The maturities are available up to a term of one year.